Skip to Content
Air Conditioning and Heating
Automotive Air Conditioning and Heating
It's important to be comfortable in your car. Don't get caught in the summer or winter without working air conditioning or heat in your car. If your car has problems making your daily commute miserable or even dangerous, contact the team at Casey's Tire Pros and Automotive today. Your comfort and safety are our top priorities. You can rely on our knowledgeable and friendly team of professionals to take care of routine maintenance, tune-ups, emergency repairs, and replacements for your vehicle's air conditioning and heating systems. Come by today for a free estimate.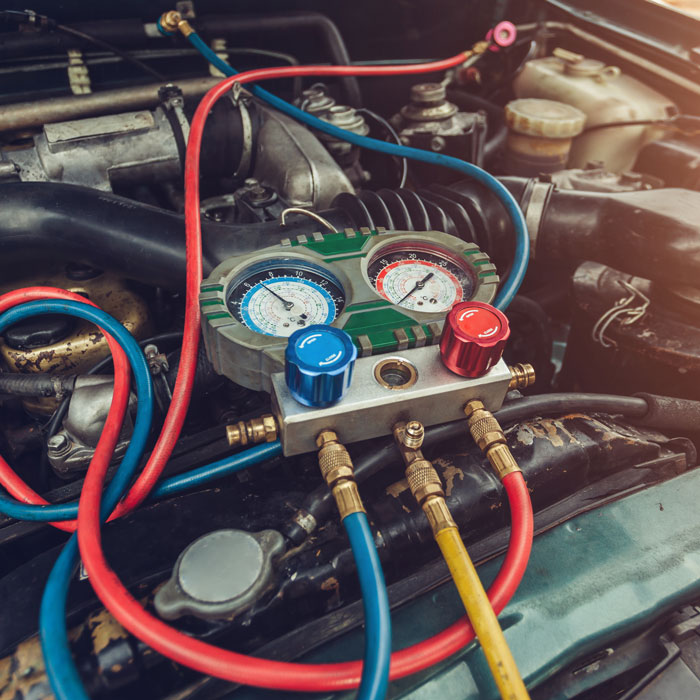 Signs Your Air Conditioning Requires Service
At first, it may sound obvious if your car's air conditioning or heating systems aren't working due to a lack of cool or warm air coming out of the vents. But there are more detailed issues to keep an eye out for. These are some of the most popular symptoms we see in Greensboro, NC that tells us you need an air conditioning or heating repair:
Strange Odors Coming From Vents – If you turn on your fans, either in heating or cooling, and you start to smell foul, hot, or mechanical odors, immediately turn it off. This can be caused by a system leak that can cause significant damage if left untreated.
Weak Airflow – It's easy to tell if your air isn't hot or cold, but is the airflow itself weak compared to previous usage? This usually means your vehicle is running inefficiently. There are many culprits available that we will conduct an assessment to find.
Noticeable Moisture Around Your Compressor – Your air conditioning and heating breaking may be a result of another part in your vehicle failing. You never want moisture buildup in your car. Turn off your air conditioning and bring your vehicle to us as soon as possible.
The Casey's Tire Pros and Automotive Difference
Our team of licensed and experienced technicians will carefully inspect your car's air conditioning and heating system to find the cause of the issue. We believe in correctly identifying all problems before we start work to save you time and money on your repairs. We check all types of components, including your condensers, compressors, belts, thermal expansion valves, refrigerant levels, and more. Routine maintenance is always the best way to avoid future problems. But accidents can happen. Don't worry. Your car is in great hands with our team. Call us today to schedule your air conditioning or heating repairs.